La Posada takes great care and passion in preparing each plate.
Although we design the full course we do accommodate for special needs.
Please do not hesitate to inform us in advance.
RESTAURANT
Mexican Full Course

Hors d'oeuvres
Seafood Cocktail
Tostada de Guacamole

Soups
Pozole
Sweet Potato Soup

Food from the Oven
Red Enchiladas
Swiss Enchiladas

Corn and Cheese Dishes
Quesadilla
Tamales

Main Dishes
Mole
Carnitas
Chile Relleno

Salads
La Posada Green Salad

Dessert

Beverages
Cocktails & Drinks
La Posada prepares everything from scratch and with great care.
That means no preservatives or chemical additives and of course we choose only the freshest ingredients.
We also cater to vegetarians and/or vegans.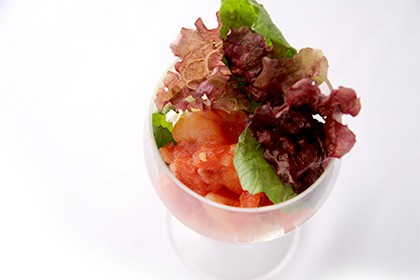 Seafood Cocktail
Cocktail de Mariscos

Seafood Cocktail Typical Dish of Veracruz. Prepared with Fresh Tomatoes & Lime Juice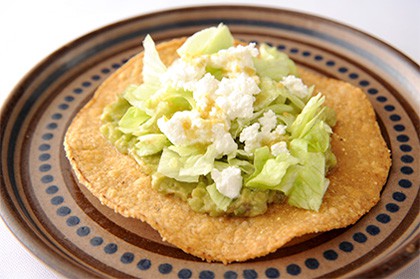 Tostada de Guacamole
Fried Tortilla with Guacamole (Fresh Avocado Paste), Lettuce, Cottage Cheese, Salsa Verde (Green Tomato Sauce)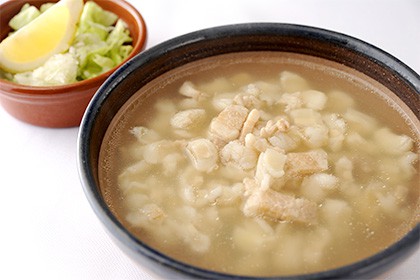 Pozole
A Light Pork Broth with Giant Corn (Hominy) about 1 inch wide. Garnished with Fresh Lettuce, Chopped Onions Fresh Lime, Oregano and Chili Powder for a Very Authentic Taste. Typical of Guadalajara in Northern Mexico, Very Popular all over Mexico. A Rare Treat for a Mexican Restaurant in Japan. Made from scratch with a Mama's love and care.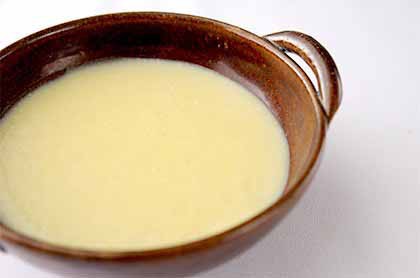 Sweet Potato Soup
A La Posada Original Slightly Sweet Pottage made with Yellow or Purple Sweet Potato.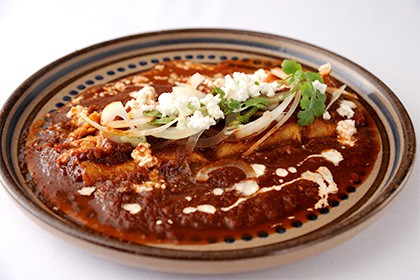 Red Enchiladas
Red Enchiladas filled with Locally Grown Sautéed Eringi Mushrooms and Cheese. Covered with our Special Red Sauce flavored with Chipotle (Smoked Jalapeños) and Ancho Peppers. Once you try you'll be addicted!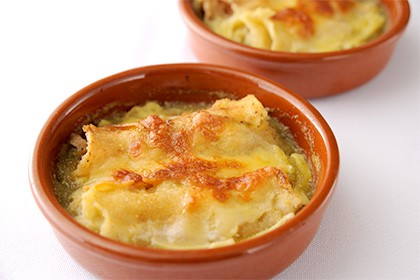 Swiss Enchiladas
Chicken Enchiladas with Green Tomatillo Sauce topped with Cheese and Baked in the Oven. One of our most popular dishes!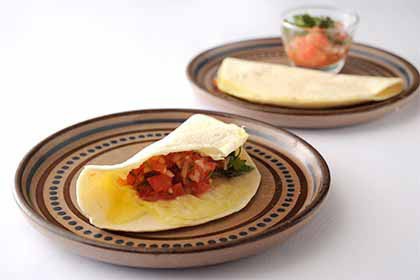 Quesadilla
[Queso] ([Cheese] in Spanish) + [Tortilla], = [Quesadilla]! As the name suggests, a Tortilla filled with Melted Cheese, plus Fresh Mexican Salsa. Very popular, specially loved by children!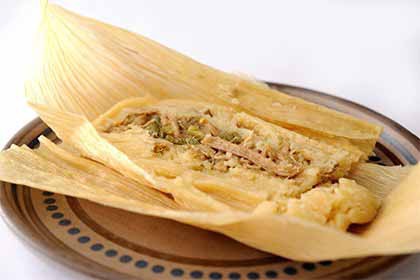 Tamales
Corn is a Staple of Mexican Cuisine. Similar to Japanese Chimaki (Dumpling Wrapped in Bamboo Leaf), Made of Corn Dough Wrapped in Corn Husks and Steamed. Tamales have been consumed by the Aztecs, the Mayans and their ancestors since as much as possibly ten thousand years ago. Today, Tamales are especially enjoyed around Christmas and Independence Day Holidays. In Japan, Tamales are very hard to find. We make our own Tamales. They are available only when ingredients can be obtained. If you are a Tamales lover, make sure you request them during reservation. We will do our best to comply.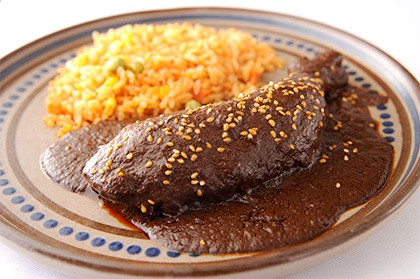 Mole
Mexico's most Typical and Celebratory Dish; Mole has a unique flavor made of a blend of various Nuts, Dried Fruits, Vegetables, a variety of Dried Peppers, Tortillas, Bread and Chocolate. We serve an extra tender Chicken Mole with a delicious and unforgettable taste. La Posada's Mole is Puebla Style.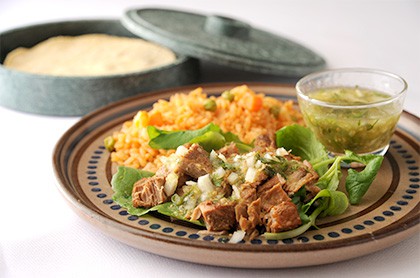 Carnitas
Braised Pork with a touch of Orange Juice served with Soft Corn Tortillas, Salsa Verde (Sour Green Tomatoes, Onion, Cilantro, Chile Serrano) and Mexican Style Rice. A tasty voluminous meal of Carnitas Tacos.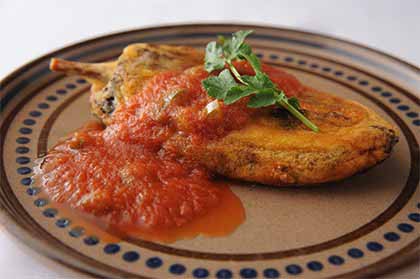 Chile Relleno
Poblano Pepper (a large mildly spicy pepper) stuffed with Cheese or a Stir Fry of Nuts, Veggies and Beans served with our special Tomato Sauce and Mexican Style Rice. A perfect dish for vegetarians but also satisfying for all. This dish is adjustable for vegans. Please let us know during your reservation.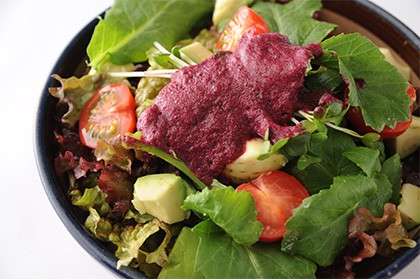 La Posada Green Salad
The Classic Green Salad, served with a handmade original dressing using seasonal fruits or herbs and spices from the garden! (Photo: Organic Blueberry Dressing!).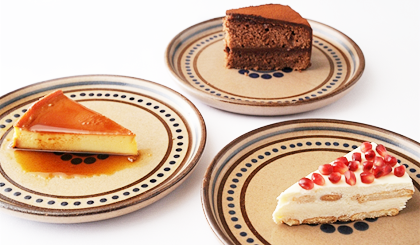 Desserts
Mexican Desserts! We make everything from scratch. Photo: A Rich Mexican Style Pudding, Lime-flavored Milk Ice Cake "Carlota" and Chocolate Cake. Even when you are full there is always room for dessert!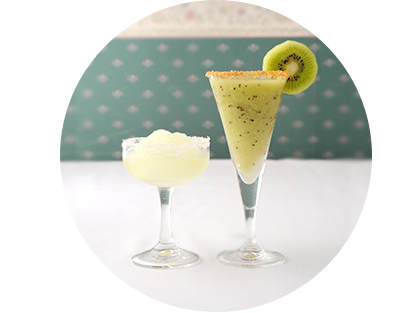 Cocktails & Drinks
We serve seasonal fruit fresh margarita smoothie-like cocktails. We use fresh spearmint and limes from our garden to make refreshing mojitos. We also have Mexican Beer, Organic Wine etc.